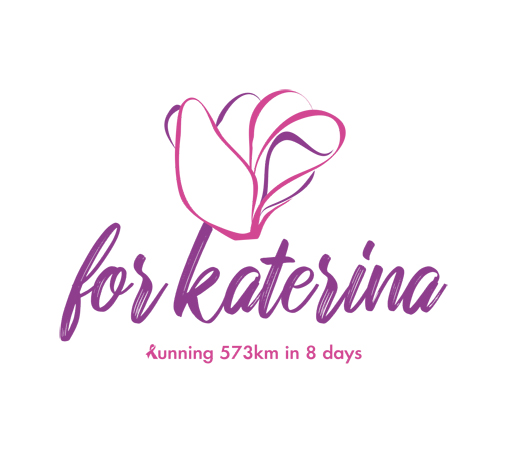 For Katerina
RUNNING EVENT
27 JUN - 04 JUL, 2020
What is For Katerina through the words of Alexandros
"For Katerina" is a tribute to a warrior who fought bravely against an invisible enemy, in an unequal battle that lasted five months. Katerina Velonidou was an amazing person; cheerful, optimistic, happy and always smiling. Even from within her misfortune, she never said "why me?" Instead, she believed that everything in life happens for a reason. In fact, she said that once everything was over, it would have happened for the good of some other people.
Many people stood by her in her fight, friends and strangers alike, which is why she always said she felt a lot of love around her. "GALILEE" was also with her; the Palliative Care Unit that is under the auspices of the Holy Diocese of Mesogaias and Lavreotiki and was created by Bishop Nikolaos. The assistance that Katerina herself, as well as her family, had from the staff at GALILEE cannot be put into words. We are so incredibly grateful to them, and wish them strength to continue their very important work.
It is worth noting that even though GALILEE is a Christian foundation, their care is the same for everyone regardless of the patients' religion.
For that reason, everyone involved with "For Katerina" believes in human kindness and that if all of us as individuals can do good for our neighbor, than our society will automatically become a better place to live. Imagine our society as an almond tree, that blooms slowly in the spring and her blossoms are kindness….can you see how the shape of the tree changes with the blossoms, and how beautiful it becomes?
"For Katerina" is a running event that will be carried out by me, her husband Alexandros. The route that I will follow will be, in essence, the route of Katerina's life from her family home in Neapolis, Thessaloniki, to the home that we shared with our son in Keratea, Attica.
It will take place to honor all those who "left" this life after battling this disease, to give strength to all those still fighting, and to their families / companions, and to bring awareness to everyone else to not be complacent with preventive checks. The enemy is always nearby and we never know when it may knock on our door.
Every one of us has been saddened for relatives, friends or acquaintances who have been diagnosed with cancer, but we never imagine that it may happen to us or to a member of our family. We have the illusion that we are invulnerable…
but sometimes life shows you its dark side and you have to fight with all the strength that you have. In order to do that one needs support, to never feel alone. The fight is difficult, but the rest of us have an obligation to be there, in whatever way we can.
Through these kinds of trials one sees what truly matters in life.
I will never forget the last months that we lived with Katerina… everything that used to go unnoticed seemed so beautiful. Suddenly everything was so incredible – the trees, the mountain, the sea…
In closing I would like to leave you with something that Katerina wrote before she was diagnosed with cancer. It shows this wonderful person's outlook on life;
a philosophy that should act as a guide for the rest of us...
"Time may not go back... but every day is a miracle, a blessing, a new start, a chance to live again, an opportunity to happiness, an unexplainable way to access the power of making things right... How is it that we are given this gift of erasing mistakes and still we cannot realise how strong it makes us... Why is it that we ask for so much, when we all need is just another day???"

Sincerely
Her husband, Alexandros